HAIR 4 FREEDOM – SOLIDARITY ACTION FOR IRAN 
Posted by Maryam Namazie
On November 28, 2022
0 Comments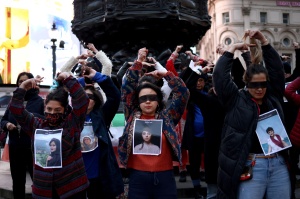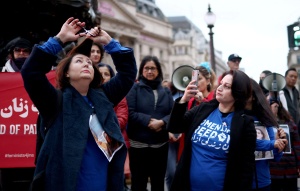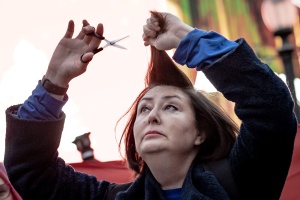 HAIR 4 FREEDOM – SOLIDARITY ACTION FOR IRAN 
One Law for All and FiLiA continue collecting #Hair4Freedom in solidarity with the Women's Revolution in Iran during #16DaysOfActivism
Hair4Freedom led by One Law for All and FiLiA on 26 November at Piccadilly Circus in solidarity with the women's revolution in Iran was a moving and inspirational action.
People attended in their 100's to mark the 'International Day for the Elimination of Violence against Women (IDEVAW).'
One Law for All spokeswoman Maryam Namazie and  FiLiA spokeswoman Freya Papworth got the mass-haircutting event underway to chants of 'Woman, Life, Freedom.' 
Namazie said the solidarity action was 'in support of the women's revolution in Iran that will bring the Islamic regime of Iran to its knees and change the face of Iran, the Middle East and the world.'
During the event, Feminists4Jina performed the Chilean 'The rapist is you!' song in Persian; Faranak Heidari danced to 'Baraye,' the revolution's anthem by Shervin Hajipour; and the 'Woman, Life, Freedom Drumming and Singing Group' performed the 'Equality Song' in Persian with the public joining in.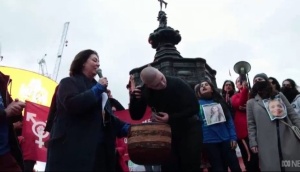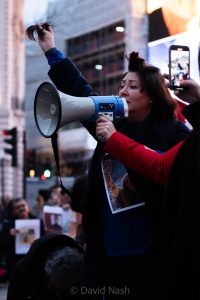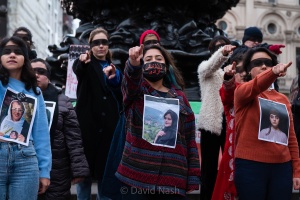 See powerful video footage of the event:
HERE and on FiLiA YouTube.
The action was covered extensively, including on Daily Telegraph Australia, VOA, ABC News, Cyprus Mail, Alein Farsi, Independent Persian, Kayhan London, VOA 365, Sri Lanka News, Yahoo, Reuters, and others.
Women can still join the action virtually by taking a photo or video (10 seconds or less) of your hair-cutting solidarity action and post on social media during the 16 days of activism, which ends on 10 December.

Remember to tag

@One_Law_for_All

and

@FiLiA_Charity

and use hashtags

#Hair4Freedom #MahsaAmini #16DaysofActivism.

Post your hair in a small freezer style bag, and a name label if you can (no later than 15 December) to:

Hair 4 Freedom, One Law for All, BM 1919, London WC1N 3XX

We hope to deliver your hair to the British Foreign Office and The Embassy of the Islamic Republic of Iran in London during January 2023. More information will be added to the website once all the hair has been received.

Please also write to your MP about your involvement in this solidarity action (

see draft email you can use and to access a tool to help you find your MP's email address

). Remember to add your own comments if you can; personalised emails have more impact.

You can contact

m.namazie@onelawforall.org.uk

and

campaigns@filia.org.uk

for more information.
The next joint action will be in January 2023. More information to follow.