Exposure: Islam's Non-Believers
Posted by Maryam Namazie
On October 4, 2016
2 Comments
atheism, ex-Muslims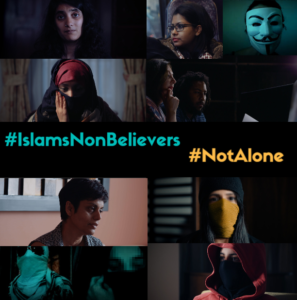 Islam's Non Believers, a new film by the award-winning film-maker Deeyah Khan, will be aired on 13 October 2016 on ITV Exposure at 10:40-11:40pm London time.
The film is the first in depth documentary following the Council of Ex-Muslims of Britain and investigating the lives of young women and men in Britain who face threats, ostracisation, discrimination and even violence for leaving Islam.
It also highlights the heinous violence faced by ex-Muslims in countries under Islamic rules (including the death penalty in 13 countries); draws attention to the role respected "community leaders" play in encouraging discrimination and violence; and makes important links between the transnational Islamist movement in Britain and internationally. Moreover, the film reveals the extent of non believers amongst Muslims and the international nature of the ex-Muslim resistance movement.
According to Sadia Hameed who is featured in the film: "There is  a link between family disownment due to apostasy and a rapid decline in mental health that is being neglected. Ex-Muslims are left feeling as though there is something wrong with them for thinking critically and asking questions or wanting answers".
According to Maryam Namazie, a founder of the Council of Ex-Muslims of Britain: "Many young ex-Muslims feels desperate and isolated  but they are not alone. There are millions of us in every home, every family, every country – though we are often ignored, silenced and persecuted. Deeyah Khan's film has given us the chance to speak for ourselves and to remind the world that Islam's non believers need support and solidarity to end apostasy laws, social discrimination and violence".
Per Rayhana Sultan who is also featured in the film: "This documentary is a bold step towards promoting the rights of ex-Muslims around the world and for years to come".
This is a Fuuse Film Production for ITV. Fuuse Film's Press Release is available here.
ITV Exposure's Press Release on "Islam's Non Believers" is available here.
See also The Independent's "Islamic communities contain 'tsunamis of atheism' that are being suppressed".
On 13 October, we call on the public to:
* Support Islam's Non Believers by promoting:
#IslamsNonBelievers
#NotAlone
* Sign a petition calling for action.
* Support the Council of Ex-Muslims of Britain.
For more information, please contact:
Maryam Namazie
Rayhana Sultan
Sadia Hameed
Council of Ex-Muslims of Britain (CEMB)
BM Box 1919, London WC1N 3XX, UK
Tel: +44 (0) 7719166731
Email: exmuslimcouncil@gmail.com
Web: http://ex-muslim.org.uk/
Webforum: http://www.councilofexmuslims.com/
CEMB is a company limited by guarantee and registered in England and Wales under company number 8059509 and depends on donations from its members and supporters to carry out its work.