New Report: Political and Legal Status of Apostates in Islam
Posted by Maryam Namazie
On November 26, 2013
1 Comments
apostasy, Islam, Islamism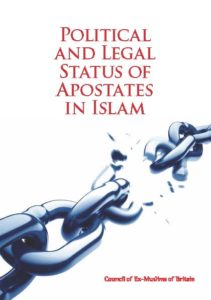 The Council of Ex-Muslims of Britain and Atheist Alliance International have just published a new report on the Political and Legal Status of Apostates in Islam with the support of The Richard Dawkins Foundation for Reason and Science UK.
The report examines sources for laws that prohibit apostasy from Islam, reviews legislation and government policies in various countries that persecute apostates and blasphemers, and highlights the cases of some of the many persecuted individuals, with a focus on atheists, secularists and freethinkers.
You can read the report here: Apostasy_Report_Web.